Introducing EVO DPX
Purpose-built shared storage for demanding grading, compositing, and finishing workflows.
Using DPX and OpenEXR with shared storage used to mean huge investments, workflow directors, and exotic file systems.Not anymore.
Qualified for 16-bit 4K DPX
EVO DPX supports 16-bit 4K (4096 x 2160) DPX at 30fps right out of the box.
A system with only 8 disks can handle real-world workloads of ~3,000 megabytes/s aggregate.

Powered by enterprise class SSDs
EVO DPX includes ultra high performance, high write endurance SSDs that help to deliver incredible throughput to colorists, VFX artists, and editors.

Supports Windows, Linux, and Mac
EVO DPX enables your team to work and collaborate across multiple OSes. You can have a VFX artist on Linux, a DaVinci Resolve colorist on Windows, and Premiere Pro editors on Mac all working from the same storage system.

Built-in 25Gb Ethernet connectivity
Stream DPX/EXR and multiple streams of ProRes or other media over 25Gb Ethernet. In many cases you can even directly connect your workstations to EVO, no switch required.

Netflix deliverables? No problem.
EVO DPX is qualified for up to 16-bit 4K DCI DPX and EXR @ 30fps. Perfect for handling demanding workflows like the ones required by Netflix.

And that's not all…
EVO DPX can be custom configured for even higher workloads than you see here, and options for 50Gb Ethernet connectivity are available.

Effortlessly handle high-resolution 10, 12, and 16-bit image sequences.
Workflow harmony.
It's now easier than ever to incorporate your DPX and OpenEXR workflows into a shared environment, alongside motion graphics and edit suites running Premiere Pro, Avid, or FCP X.
Focus on productivity.
By enabling real-time editing directly over the storage network, EVO eliminates the need for standalone RAIDs or individual drives for multiple workstations. This, in turn, eliminates the need to endlessly shuffle huge files. Editors, colorists, and other artists spend less time waiting and more time getting things done.
Performance
Supports up to 16-bit 4K (DCI) DPX/EXR @ 30fps
3GBytes/s system throughput (aggregate read)
Capacity
Up to 32TB (8 x 4TB SSD) included
Supports up to 24 x 4TB SSD
Built-in Connectivity
Includes 2 x 1Gb Ethernet (expandable)
Includes 2 x 10Gb Ethernet (expandable)
Includes 1 x 25Gb Ethernet (expandable)
Other configurations of 1/10/25/50GbE available
Enhanced Features
EVO is loaded with features built to improve shared media workflows. To learn more about EVO features, click here.
Drives
Includes 8 x High Endurance Data Center SSDs
Supports up to 24 x SSD (6Gb/s SATA or 12Gb/s SAS)
Software Included
Unlimited licenses of ShareBrowser media management software
Windows, Linux, Mac Supported
EVO DPX can be used with multiple operating systems, and you can use any or all of these platforms with EVO.
Operating System
"Performance is flawless for all our users, whether they are on Avid Media Composer, DaVinci Resolve, or our VFX workstations."
Gaby Feghali, Managing Director at Montage Post Production
See what else our customers are saying…
Ana Lafser
The Stitcher app is one of the preeminent podcast listening platforms. Every studio is hooked up to an EVO shared storage server and synchronized to Dropbox, enabling engineers, producers, hosts and other contributors to collaborate from multiple locations.
Andrew McKay
Nitro Circus is a global sports entertainment company that produces a wide array of live events, docuseries, television programming, and digital content. Founded by action sports icon Travis Pastrana, Nitro Circus began as an excuse to travel the world riding dirt bikes, BASE jumping, and performing crazy stunts. The brand quickly took on a life of its own, spinning into live-action sports competitions complete with screaming fans and multi-camera broadcasts to a massive worldwide audience. Today, Nitro Circus is a bonafide media company with shows airing on multiple networks, while also turning countless hours of digital content for their audience of 25 million fans worldwide.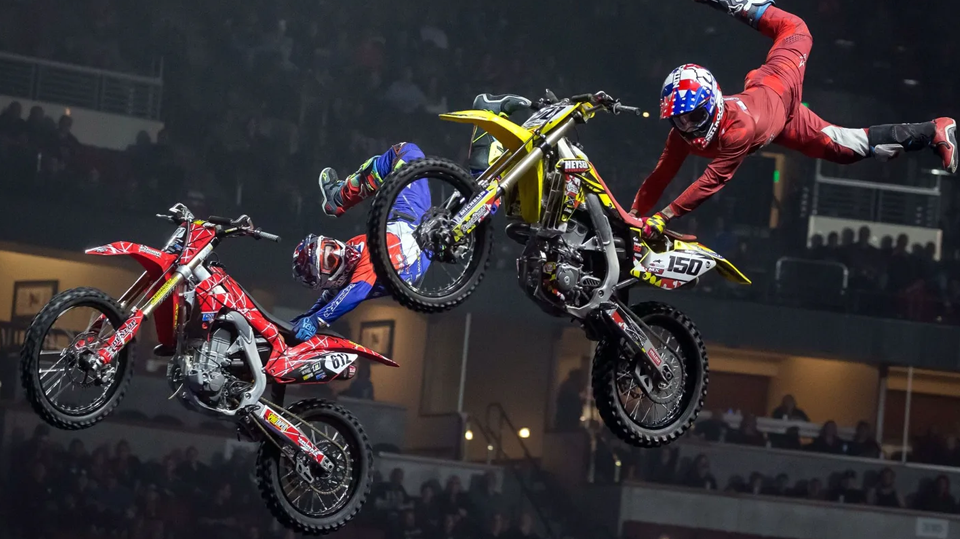 Andrew McKay
Post House Creative is a full-service video production and animation boutique. On a recent project for the Columbus Blue Jackets, Post House Creative had an opportunity to try something new. Instead of the usual style frames, storyboarding, and animatics, they went with a hybrid video game/app based on the Unreal Engine called Cine Tracer—a realistic cinematography simulator.
Schedule a demo for your team.