ShareBrowser File & Asset Manager
Media teams work and collaborate more effectively with ShareBrowser.
Runs on macOS, Windows, and in your web browser.
Search, find, tag, comment, and preview… for the whole team.
ShareBrowser enables your users to organize and search for media and projects across EVO storage as well as local, offline, and other SAN/NAS network disks.
Assets can be catalogued, tagged, and commented, so everyone on the team can easily find, preview, and share media and projects.
ShareBrowser is perfect for post-production teams that collaborate around a shared storage workflow, giving everyone a central, searchable database.
ShareBrowser shows you your storage workspaces in one spot — including cloud services like Dropbox, Hightail, and Adobe Creative Cloud.
Buy ShareBrowser for your team, starting at $3,799 *
* An unlimited number of user licenses is included when you buy ShareBrowser. Need shared storage? ShareBrowser is also included with every new EVO shared storage system.
Search, Find, and Preview Your Media
Find What You Need
Everyone can easily search and find assets using tags, comments, and metadata such as name, codec, frame rate, modified date, resolution, and other file attributes.
Preview Your Media
Not sure if you've found the right clip? Preview video directly from ShareBrowser's integrated player. Just press the spacebar to start playback of the proxy file, which is playable even if the original source media is offline.
No Additional Cost or Hardware
ShareBrowser's server software runs right inside your EVO. All indexing (cataloguing) and proxy generation can be handled inside EVO, meaning you don't need additional server hardware to use ShareBrowser. Unlimited client licenses are included with EVO.
Autotagging with AI & Machine Learning
Easy-to-Use Asset Management
Simple asset management — add tags/keywords and make comments on your assets from folder level down to file level.
Anyone on your team can quickly add tags and comments to media and projects from within ShareBrowser.
Project Locking & Collaboration
Collaborate Effectively — Automatic Project Locking and Avid Bin Locking
Features such as Avid Bin Locking and ShareBrowser's ability to lock Premiere Pro and Final Cut Pro X projects mean your video editors won't save over the top of each other.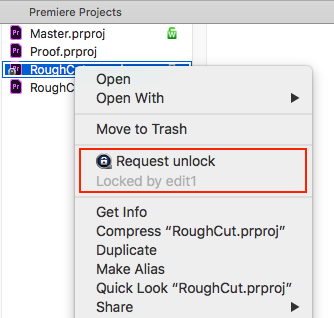 Shared storage works best when it helps your NLE.
ShareBrowser enables native Media Composer bin locking, and also includes a customizable Automatic Project Locking system for other media applications.
When you lock a project you get full access; others have read access until you release the lock. If you need write access to a locked file, just send a request through ShareBrowser and the owner will be instantly notified. Active locks can be viewed from ShareBrowser, Finder, and Explorer.
Project Locking is available for After Effects, Photoshop, Pro Tools, and many others.
Export to Premiere and Final Cut Pro
Once you've found what you need you can export your media — with all the custom tags and comments — directly into Premiere Pro or FCP X and browse by that custom metadata from within the NLE.
Web App Included
Point your web browser to EVO and login.
With the ShareBrowser web app, there's no need to install a desktop application just to search, preview, and add metadata to your media. Simply point your web browser to EVO and login!
You'll instantly find proxies of your EVO's media, and you'll love the beautifully designed, intuitive, clutter-free web interface.
ShareBrowser includes the "full client" desktop app for macOS and Windows, and the new web app.
Data Verification
Paste & Verify
Paste & Verify enables you to select files and folders on a source volume, select a destination, and initiate a copy with verification.

MD5 Checksum
Generate an MD5 checksum for a file, store the checksum in the ShareBrowser database, and compare files against existing checksums to ensure data is intact.

Send to LTO Archive
Complete Your Workflow — direct integration with StorageDNA means you can send your files to LTO tape archive without leaving ShareBrowser.
If the data being archived has custom metadata (from ShareBrowser), a JSON file will be created to contain the tags and comments so that they, too, can be archived with the selected folder.
1) Runs Inside EVO
ShareBrowser is a client/server system — some of its "magic" happens automatically in your EVO storage server, which performs indexing functions and keeps an eye on things like file movements and project locks.

2) Unlimited Client Licenses
On the other side — the client side — ShareBrowser Desktop Client gives everyone on your team access to commonly-needed functions that frequently occur within media-centric workflows.

3) Created for Teams
ShareBrowser's goal is to be a "single pane of glass," where your team can consolidate its interaction with its storage workspaces quickly and conveniently, instead of floating among many different utilities.

ShareBrowser is included with every new EVO shared storage system
Discover an easier way to organize, share, and preview your media.
Index all of your storage devices so you can search them
Add metadata, tags, and comments to anything
No per-seat licensing
Use a single search query to find what you need
Get online and offline proxy previews
Manage data on all of your file systems
Enable project locking for Adobe, FCPX, and Pro Tools
Use Avid-native project, bin, and media sharing
Integrate with popular cloud services like Dropbox, Hightail, Google Drive, and Adobe Creative Cloud