EVO Shared Media Servers
Modern workflow solutions for remote, on-site, and in-studio video teams.
The EVO shared storage video editing server gives professional media teams incredible performance and supercharged efficiency. It offers a suite of features for on-site and remote users, including the powerful and easy-to-use ShareBrowser MAM, Nomad, and cloud-integrated Slingshot automation system.
All in one box.
The EVO Suite
A standard for editors everywhere…
Included with EVO.
CLOUD COMPUTING & STORAGE
REMOTE PRODUCTION
ShareBrowser
Media Asset Management
Organize projects, find and preview media with custom tags and metadata
Included with EVO
ShareBrowser is easy-to-use media asset management software, which can be used by your team to tag, organize, find, comment, and review video, image, and audio files. AI auto-tagging also available.
Nomad
Remote Editing
A practical solution for in-house, remote, and freelance video editing workflows
Included with EVO
Nomad is used to gather source or proxy media (automatically created by EVO's transcoder), which prepares editors to work virtually anywhere.
Slingshot
Automations & Transcoding
Automate file transfers, transcode edit-ready proxies, and sync jobs to EVO Nearline or cloud services like S3 and Dropbox
Included with EVO
Slingshot is a robust automations engine and powerful API for EVO, enabling on-demand and scheduled file movements across multiple systems and geographical locations.
Online
16 Bay
High performance scalable storage for medium to large workgroups
The 16 bay EVO accommodates up to 80 drives per managed system and multiple 10, 25, 50, and 100GbE ports.
Most Popular System
High performance shared storage for small to medium workgroups
The 8 bay EVO accommodates up to 24 drives per managed system and multiple 10, 25, 50, and 100GbE ports.
DPX
All flash, high write-endurance SSD
EVO DPX is built for intense throughput DPX/EXR finishing and color grading. Includes enterprise-class SSDs and built-in 25GbE
8 Bay Live
Short-depth storage for DIT & mobile
An 18″ EVO designed for big needs in tight spaces. Great for small server racks, flypacks, DIT, mobile, and other on-location workflows.
The EVO OS, systems, and all included software are designed by SNS, for professional media applications.
Nearline
EVO Nearline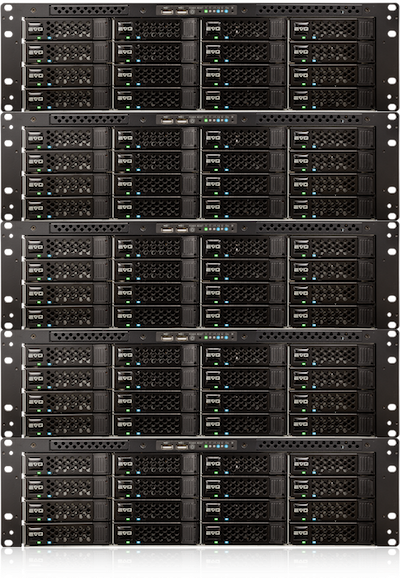 Not just for EVO users!
Affordable nearline/secondary tier for staging large reference libraries, completed projects, and related media before deep archive. Cluster-capable for scalability to multiple petabytes in a single namespace.
Cluster/scale-out to multiple petabytes
Workflow solutions
ShareBrowser
Search, find, tag, comment, preview, archive… for the whole team.
ShareBrowser is perfect for post-production teams that collaborate around a shared storage workflow, giving everyone a central, searchable database.
Includes panels for Premiere, After Effects, Final Cut Pro, and DaVinci Resolve.
Unlimited licenses of ShareBrowser are included with every EVO system.
Slingshot
Automated backups, transcodes, file transfers, and more.
Slingshot is the easy-to-use automations engine that takes repetitive data processing tasks (like transcoding, indexing, and backing up your media and projects) off your editors' to-do lists.
Get unlimited automations with every EVO shared storage server.
Nomad
A must-have for remote video editors.
Take your workflow on the go with Nomad, EVO's remote editing tool.
Nomad retrieves all the proxy media and source files you need to work on your remote editing projects offline, making it easy for team members to edit from anywhere in the world.
Included for unlimited users with EVO. Nomad is perfect for working from home, remote freelancers, and hybrid on-site/off-site workflows.
SNS Cloud VPN
Go from 0 to VPN in under 60 minutes.
In the studio, at home, or on the go. Give your team continuous access to their media and projects, from anywhere.
SNS Cloud VPN is the safe, secure, and convenient way for your team to access, download, and edit their shared files remotely.
Optional service. Built exclusively for EVO.
Services
Enhanced services and support offer your organization all-inclusive hardware, software, warranty, integration, and interoperability coverage for every SNS product—leading to increased uptime, productivity, and profitability (on your end).
Support plans
Choose Basic, Standard, or Premium technical support to best fit the needs of your organization.
Installation
On-site installation or remote commissioning services make deployment a breeze.
Training
Our product and workflow experts take your team through onboarding and basic use.
Migration
If your current MAM system has become so complicated that no one wants to use it… we can help.