MOD media storage server
Compact video editing server and cloud edge device for creative professionals on the go.
Take your studio anywhere
MOD is a personal-sized server and edge device that lets you bring your entire workflow with you, wherever you go. Powered by EVO, an award-winning workflow solution.
Share your media everywhere
You can automatically transcode your media with MOD, then backup, sync, and transfer your source and/or proxy files to the cloud automatically, without tying up your workstation.
Does it work with Dropbox and Amazon S3?
Yes, and more!
MOD's built-in workflow tools make it easy to sync, transfer, and backup your files to Dropbox, Amazon S3, Microsoft Azure, Wasabi, Backblaze, Google Cloud Platform, and EVO Cloud.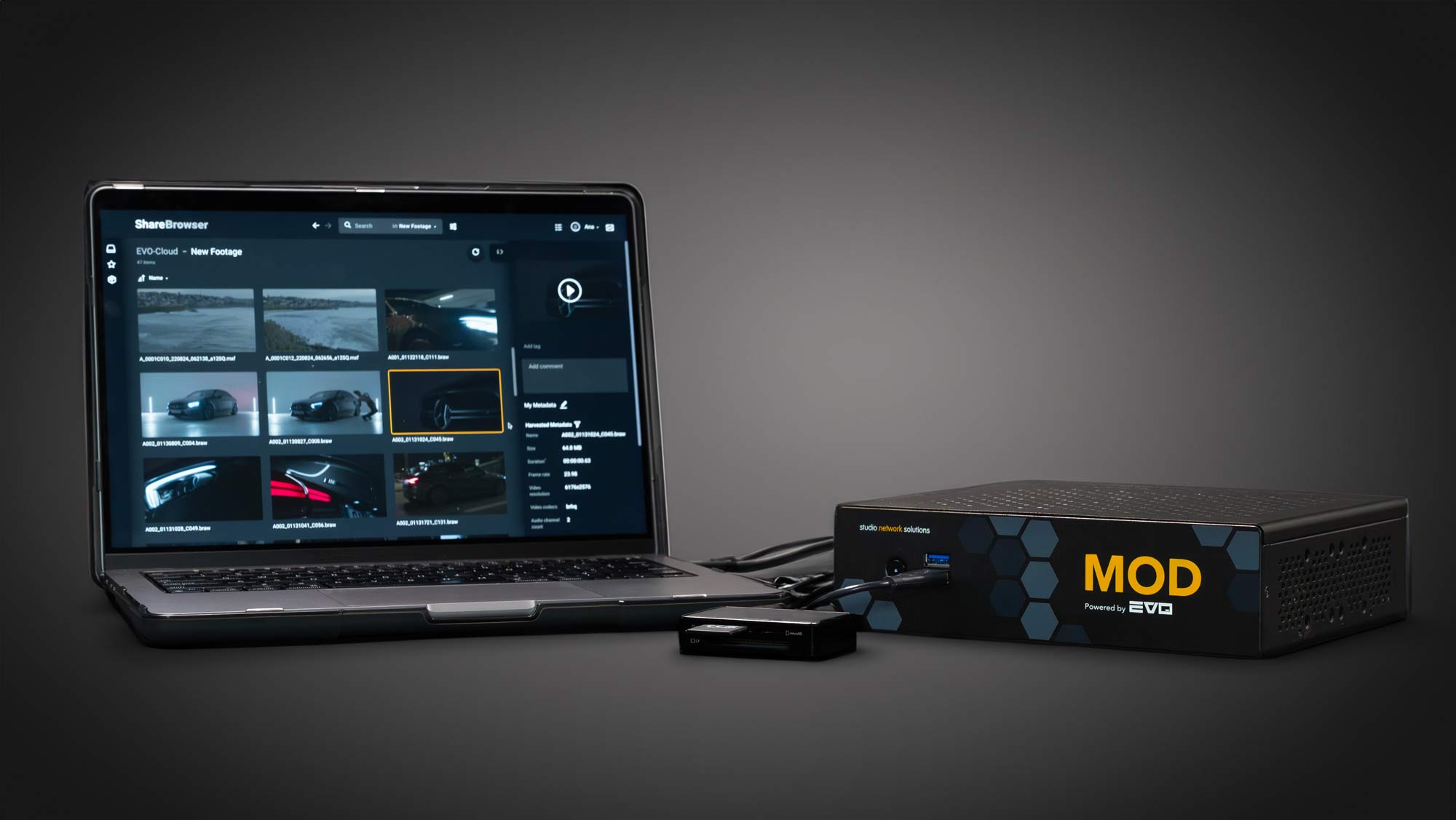 A cloud's best friend
Speed up your cloud production workflow with MOD as an edge device.
Automatically transcode, sync, transfer, and backup your media to cloud storage—all with the power of MOD.
You can edit directly from the server and collaborate in the cloud. MOD works seamlessly with Amazon S3, Microsoft Azure, Dropbox, Google Cloud Platform, Wasabi, Backblaze, EVO Cloud, and more.
An edge device sits on the "edge" of your network and facilitates data processing tasks to and from the cloud.
For example, you can push media files from MOD into the cloud—or pull content from the cloud down to the server—all using the power of your MOD edge device.
MOD can also take on computing tasks like transcoding, which can simultaneously minimize your cloud computing requirements and streamline your cloud workflow. Win, win.
Big production energy
In a compact server.
Lightweight and portable
Weighing about 7lbs (~3kg), MOD's lightweight and slim design make it easy to carry with you everywhere—from your daily commute to production locations around the world.
Featuring securely enclosed, all-flash hard drives with no moving parts, MOD is designed for performance, portability, and protection of media assets.
Quiet on set
You can edit from your MOD server on set without disturbing your audio techs.
Our quietest server yet, MOD's ultra-quiet fans offer the ultimate balance of cooling power and noise reduction.
4K performance
Powered by high-performance, RAID-protected SSDs, your MOD server is ready to tackle 4K video editing projects, right out of the box.


Designed for film, television, and video production teams
MOD is a specialized media workflow server for content creators.
Complete with plenty of processing power, storage capacity, and workflow tools, MOD is the ideal travel storage solution for video editors, VFX artists, freelancers, and other creative professionals.
• High-performance SSDs
• 4K and 8K video editing
• Multi-user performance
• Vast codec compatibility
• 10GbE connectivity

• RAID 6 protection
• Easy-to-use backup automations
• Tamper-resistant design
• Anti-delete protection
• Network recycle bin
• Granular user auditing and permissions
• Custom OS
• EVO Suite included for unlimited users
• ShareBrowser media asset management (MAM)
• Cloud backups
• Automated data transfer, sync, and replication
• Automatic transcoding
• Remote workflow
• Accelerated VPN free for 6 months
Powerful and packable
Take your audio and video production workflow to the next level.
Benefits
Edit directly from the server
Always know where your media is
Share everything from h264 to 8K and beyond
Small enough to take anywhere
No per-user license fees
Workflow
Award-winning EVO Suite included
Unlimited ShareBrowser MAM users
Automate repetitive tasks
Transcoding BRAW, ARRIRAW, R3D, ProRes, and more
Cloud and NLE integrations
Architecture
Slim, portable design
All-flash performance
Custom EVO OS
Includes 2 x 10Gb Ethernet ports

macOS, Win, and Linux support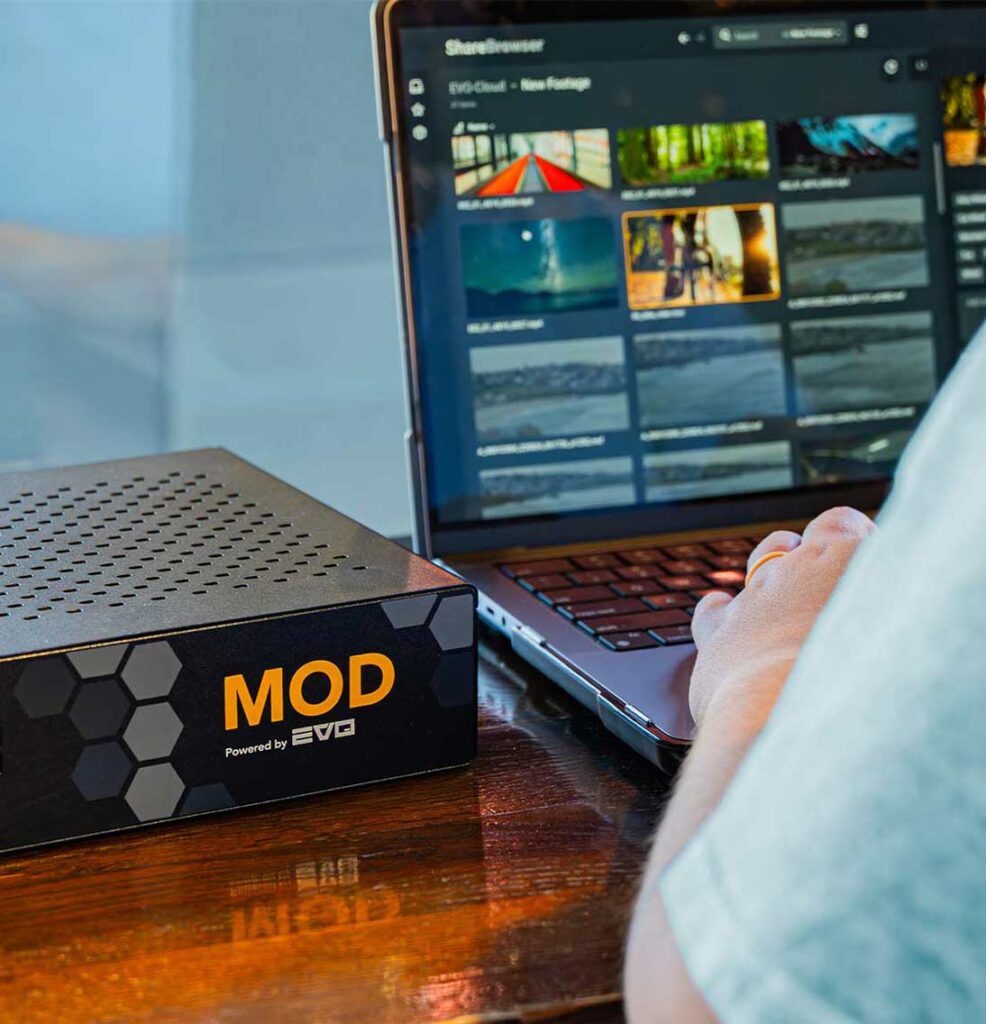 Do more with MOD
Bring your projects on the road without sacrificing the comforts of your workflow.
Organize media with built-in ShareBrowser MAM.
Search across all connected storage.
Preview your footage.
Tag with the power of A.I.
Store files in any format.
Import media into your NLE.
Share media and projects.
Edit collaboratively.
Transcode automatically.
Backup to cloud, local, and network storage.
Create amazing content, faster, from anywhere.
Connecting to MOD
With a high-speed network switch built right in—plus free VPN service for six months—you'll always have access to your portable edit server.
2 x 10GbE ports
Two Ethernet ports.
Ten Gig speed.
No dropped frames.
With dual-port 10Gb Ethernet connectivity included, multiple editors can edit directly from the server simultaneously.
2 x USB ports
MOD's front-facing USB ports enable media ingest directly from your memory card.
Just plug your camera card reader into the server, then sit back, relax, and edit your media.
6 months unlimited VPN
Securely connect (and let others connect) to your server from anywhere in the world with SNS Cloud VPN, included free for 6 months.
The perfect match for your NLE
Create in any video editing software you want.
Adobe Premiere Pro, After Effects, Final Cut Pro, Avid Media Composer, Pro Tools, Nuke, Blender, Edius… MOD works with them all.
Compatible with Windows, Mac, and Linux, too.
Purpose-built for A/V environments
Just because your server isn't in a rack, doesn't mean it has to clutter your workspace. Install MOD to the underside of your desk, the back of your monitor, or anywhere you want.
Made for audio and video production professionals, MOD comes with secure installation hardware preferred for use in A/V environments.
Install your MOD on the back of your monitor (or other VESA-compatible products) to keep the server out of sight, yet never out of reach.
MOD's wall mount works with most flat surfaces, so you can mount MOD to your desk, inside a ventilated cabinet, or even on a rack shelf in your server room.
Extraordinary extras
At no extra cost.
Award-winning workflow
MOD includes the award-winning EVO Suite (ShareBrowser MAM, Slingshot transcoder and automations engine, and Nomad remote workflow) for unlimited users. Trusted by media professionals around the world.
VPN Accelerator
A free upgrade for SNS Cloud VPN users, VPN Accelerator offers remote workflow speeds up to five times faster.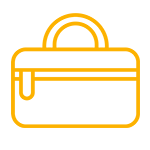 Travel case
Travel in style with a sleek and comfortable carrying case, featuring padded compartments to protect your MOD and other valuables as you travel the world.
Lifetime support
Backed by the best technical support in the industry.
If other shared storage companies had a 99% support satisfaction rating, they'd brag about it, too.
Two year warranty
We stand behind our products 100%. That's why MOD comes with a standard 2-year hardware replacement warranty.
Extended warranties are available.
Spare power supply
Cords and cables can be hard to keep track of when you travel a lot. To make your life easier, we include a spare power supply with every MOD server. Just in case.
Join the MOD squad
Create amazing content, faster, from anywhere with the compact, travel-friendly, high-performance video editing server and edge device for professional audio and video production teams.
Get a demo or place an order today.