EVO enables better video workflow — you get more time to create.
The EVO Suite
Workflow storage for professional video teams.
We make EVO so that editors, colorists, and producers can live in harmony knowing their media and projects are easy to access, share, and find—from anywhere.
It's a beautiful thing.

EVO is an easy-to-use video shared storage and media management server, built to make every post-production team more effective.
Available in 16, 8, and 4 bay configurations.
Battle proven
Creative professionals all around the world use EVO — for everything from broadcast to feature films, ad spots, VR, 360° video, and more.
"We have 75 workstations and a 40 node render farm hanging off the backbone of our infrastructure.
Whether there are artists working or major renders happening, there can be 100 machines hammering our EVO systems, and these demands are met effortlessly."
Jon Rennie,
Managing Director at Bait Studio
"We needed a shared storage solution that could handle UHD post-production and we needed a simple MAM to help us manage the wealth of data we'll be generating.
SNS has us covered on all bases."
Walter Biscardi,
Creative Genius at Biscardi Creative Media
Built for your NLEs, and your workflows
EVO isn't just "compatible" with your hardware and software.
Take your video editing workflow to the next level, with panel integrations for Premiere Pro and Final Cut Pro, native project and bin sharing for Avid Media Composer, Nomad remote workflow tools, and other collaborative features your team will love.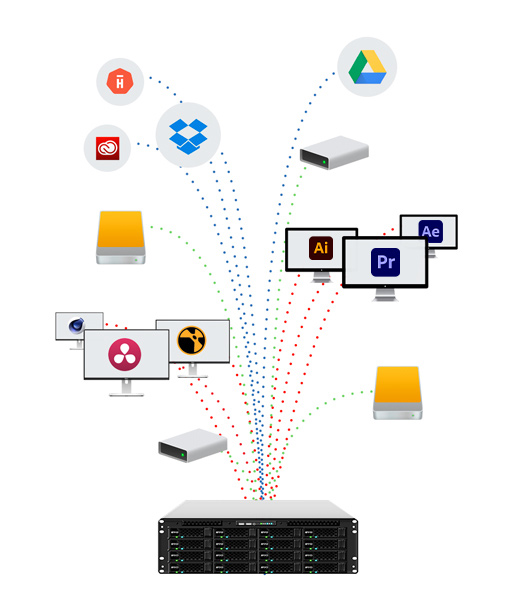 "While one person is laying down graphics on an offline machine in After Effects, someone can be coloring on our online station with Resolve, and still another can be editing offline, all sharing the same project file."
John Lundberg, Head of TV at Pixl Family
Unlimited media management software
Every new EVO system includes unlimited licenses of ShareBrowser. No strings attached.
ShareBrowser is intuitive media management software designed by SNS. It helps teams organize, by giving them a panoramic view of media assets across every connected device.
You'll never wonder where "that one shot is" again.
An EVO for any size team, anywhere
EVO video editing servers are available in configurations from two users to 100+ users, and capacities from 8TB to petabytes.
SSD options and up to 100GbE ensure your team will have the performance needed to take on any job.
Plus the award-winning EVO Suite for unlimited users.
High performance shared media storage server
Scalable up to Petabytes
SSD and HDD available
10/25/50/100GbE options
ShareBrowser media management software included
Nomad remote tools included
Slingshot automations GUI and API
Recycle bin
No per-seat license costs
Cloud integration with S3, Azure, Dropbox, and others
macOS, Windows, Linux support
Contact us — we'd love to hear from you!