EVO is shared storage for media creators.
Fast and scalable, with built-in media management

High-performance video editing shared storage—a liberating experience for your team.
59
Streams of ProRes 422 (145)
14
Streams of ProRes RAW HQ 4K
26
Max ports of on-board Ethernet
Intense performance
Our customers love to push the envelope, so EVO supports even the most
demanding 4K and 8K video
projects.
The EVO OS is tuned to finesse the most possible video performance from every single disk, which means you can do more with less.
Codec & frame rate
Streams
EVO unique video streams (16 HDD disks, RAID 6)
Avid DNxHD 36 1080p @ 23.976
142

142 streams (16 Disks, RAID 6)

ProRes 422 (145) @ 29.97
59

59 streams (16 Disks, RAID 6)

ProRes 422 HQ (220) @ 29.97
51

51 streams (16 Disks, RAID 6)

ProRes 422 HQ 4K (720) @ 23.98
XAVC-I 4:2:2 10 Bit 4K @ 29.97
17

17 streams (16 Disks, RAID 6)

ProRes RAW HQ 4K @ 23.98
14

14 streams (16 Disks, RAID 6)

ProRes 4444 4K @ 23.98
12

12 streams (16 Disks, RAID 6)

Uncompressed 10 Bit HD @ 29.97
RED 6K 5:1 WS @ 23.98
10

10 streams (16 Disks, RAID 6)

ProRes 4444 4K @ 29.97
8

8 streams (16 Disks, RAID 6)

ProRes RAW 8K @ 29.97
4

4 streams (16 Disks, RAID 6)
How did you get these stream counts?
We do this the hard, meticulous way.
Testing was conducted using a single 16 bay EVO, loaded with 16 x 12TB HDD disks, running EVO OS v.7.0.1. We connect more than ten Mac and HP workstations, direct-attached with GbE and 10GbE, using SMB, FCP, Final Cut Pro 7, Media Composer, Premiere Pro, and loop and scrub simultaneous unique clips (independent files) of various sizes. Stream counts shown represent aggregate load on the storage system and do not apply to Nearline, Cluster, or Prodigy models.
What if I use more disks?
The table above uses 16 disks. If, for example, you were to add another 16 disks to your EVO then you would roughly double the number of streams.
What if I use fewer disks?
The table above uses 16 disks. If, for example, you were to use half that number then your EVO could handle slightly more than half the number of streams shown.
Fast and scalable
EVO and its custom EVO OS are built exclusively for the performance and workflow demands of professional TV, film, graphics, VFX, animation, AR/VR, audio, and broadcast.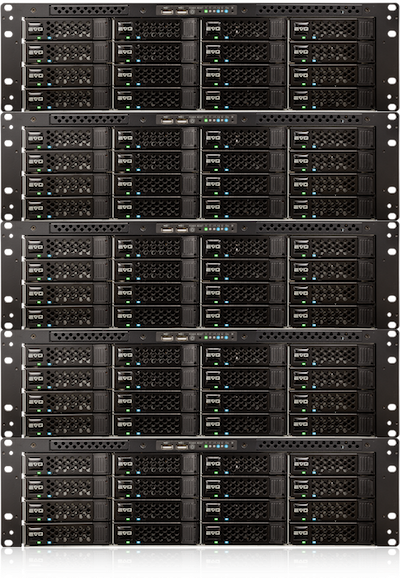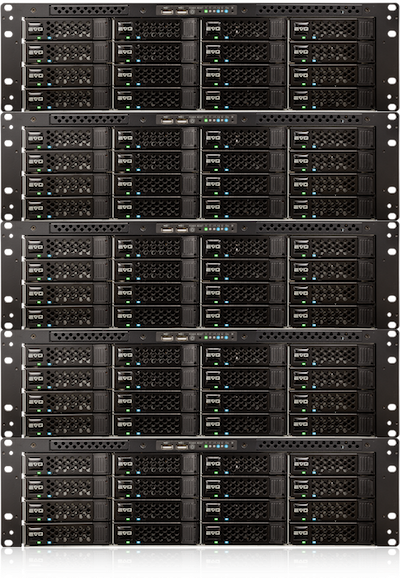 The system is an incredibly fast video workflow storage server… and it's easily expandable.
SSD launch mode
For most teams, the video stream performance shown above is more than enough headroom.
But some projects—like color grading and finishing—can go far beyond what's required for editorial. 4K DPX/EXR image sequences, for example, can require about 2,000 megabytes per second to a color grading suite, which can crush systems costing 2-3x more. Order perfectly matched SSDs with your EVO and it ships to you prepared to take on the world.
"All we have to do is put our energy towards creating things as a team. EVO is this invisible force that keeps us all connected every minute, every day."
Gevorg KarenskyFounder, Bipolar Studio
Underpromise, overdeliver.
EVO performance is rated with disks filled to near capacity.
That's important, because it's easy to get higher numbers on new, barely used disks. A rating at nearly full shows what you can expect from an EVO after extensive use, not just what you'll get when it's fresh out of the box.
Read our story to see what sets us apart.
Advanced caching algorithms help to make EVO capable of handling more video streams per array than most shared storage systems. This means you can do more work with a fewer number of disks, which results in a less expensive, more reliable, energy conscious storage solution.
Stop wasting time copying huge files. EVO enables each user to capture, edit, share, and play in real-time — all on central storage — while providing fast access to shared media and other assets from every suite.
Read more about EVO's Features for media professionals.
Video formats — Uncompressed, Animation, 8K, DPX, ProRes, DNxHD, RED/R3D, DVCProHD, XDCAM, DV, HDV — have very different performance needs, especially in a shared storage workflow environment. We test and optimize for peak performance with the leading codecs and applications, assuring compatibility with your needs.
The EVO suite, included with every new system, includes ShareBrowser, Nomad, and Slingshot. Editors around the world use these apps to power a modern, practical, on-premise and remote workflow solution.
Unlimited licenses are included, so everyone on your media team can instantly work more effectively.
Share everything from DNxHD to 8K
Import once, instantly share video, eliminate redundant copies
Edit video directly on fast networked shared storage
Available with 10/25/50/100Gb Ethernet
No per-seat software licensing
Share between macOS, Windows, and Linux
Unlimited licenses of ShareBrowser asset software included
24×7 tech support available
Supports Adobe Premiere Pro, DaVinci Resolve, Final Cut Pro, Avid Media Composer, After Effects, Smoke, Scratch, EDIUS, Pro Tools and more
Digital content producers all over the world are choosing the EVO shared storage system.
The perfect blend of price, performance, connectivity, and expandability…
"We grew the number of episodes during production and the staff kept growing. We had a show runner, nine producers, two executive producers, seven editors and four assistant editors — around 24 Final Cut Pro users reviewing and editing footage on EVO at any given time."
Jose BerriosPark Slope Productions
"EVO worked perfectly right out of the box. I was surprised how well it integrated into our process, particularly with Avid Media Composer. If you didn't know any better you would think you were working on Avid's native storage."
Rob SarroffZigZag Post
See why editors happily choose EVO.
See it for yourself, in action and personalized to your workflow, so that you can be confident you get the best storage system for your team.
We look forward to hearing from you.