April 8-11, 2019 — Visit us at NAB (Stand #SL3305)
NAB 2019
Las Vegas, NV
April 8-11 2019
Get hands-on with the latest innovations in shared storage and media asset management, meet with industry leaders, and discover the technology to completely transform your workflow.
Time & Date
April 8-11, 2019
Location
Las Vegas Convention Center, SL3305
Complete the form below to schedule a meeting at the show!
What We're Showcasing
Feature Film Workflow Demos
Dive into the workflow behind Damien LeVeck's feature film "The Cleansing Hour" shot in 8K and edited and finished on EVO. Get a one-of-a-kind look at post production on the film, including how he used a shared DaVinci Resolve database with EVO Shared Storage.
Enhanced workflows for Adobe, FCP X, Avid, and Resolve
See how EVO works with your favorite NLE. Whether you're using Premiere Pro, FCP X, Avid, or Resolve, EVO has features designed specifically for your workflow.
Shared Storage for DPX and OpenEXR
Get hands-on with EVO DPX, our highest performance EVO system yet.
New ShareBrowser Features
See the latest updates to ShareBrowser, including customizable metadata fields, extended file support for previews, and new integrations for Adobe Premiere Pro, Final Cut Pro X, and After Effects.
Major Updates to Slingshot
Learn how new features in Slingshot can help streamline your team's storage management with copy, sync, and backup tasks.
AI Autotagging
Discover how teams of all sizes can take eliminate hours of manual metadata logging with AI in ShareBrowser.
Scale-out Clustering for EVO Nearline
Learn about the latest updates coming to our EVO Nearline storage tier.
Eric Newbauer
If you're used to being in an office and editing from a computer with high-speed shared storage, then working on those projects from home can be a challenge.
Working remotely from your primary storage server may require copying huge files at internet speed, which could take days over slow connections. In light of recent headlines, you may be imminently faced with that reality and wondering how to shift operations to a remote workforce. Luckily, if you're using ShareBrowser and you find yourself needing to work remotely, your EVO storage server is already doing something that's about to help you out in a big way.
Truman Wheeler
Remote editing is more viable than ever, but it still has its limitations. Gathering footage, particularly on short notice or for an unforeseen amount of time away from work, requires a significant amount of foresight and planning. The file sizes are likely too unwieldy for online transfer, and getting footage from one editor to another would nearly halt the post-production workflow. The good news is that there are options that are already compatible with EVO right now.
Andrew McKay
Say goodbye to projects as you know them. Premiere Pro is entering a new, more feature-friendly era of collaboration.
At this year's Sundance Film Festival, Adobe announced a new update coming soon to Premiere Pro. And it's sure to change the way teams use Premiere on large, multi-user projects like episodic television and feature films.
It's called "Productions," and it's not-so-much a new feature as it is a reimagining of the way a Premiere "project" is structured. Productions are a new way to manage projects, share assets, and keep everything organized when you're collaborating with a team.
Adobe is taking aim at Hollywood workflows, which shouldn't come as a surprise to people who have been following Adobe's rapid expansion into the TV and Film market. A growing number of Hollywood editors and up-and-coming filmmakers alike have been embracing Premiere Pro for a number of years.
Andrew McKay
Nitro Circus is a global sports entertainment company that produces a wide array of live events, docuseries, television programming, and digital content. Founded by action sports icon Travis Pastrana, Nitro Circus began as an excuse to travel the world riding dirt bikes, BASE jumping, and performing crazy stunts. The brand quickly took on a life of its own, spinning into live-action sports competitions complete with screaming fans and multi-camera broadcasts to a massive worldwide audience. Today, Nitro Circus is a bonafide media company with shows airing on multiple networks, while also turning countless hours of digital content for their audience of 25 million fans worldwide.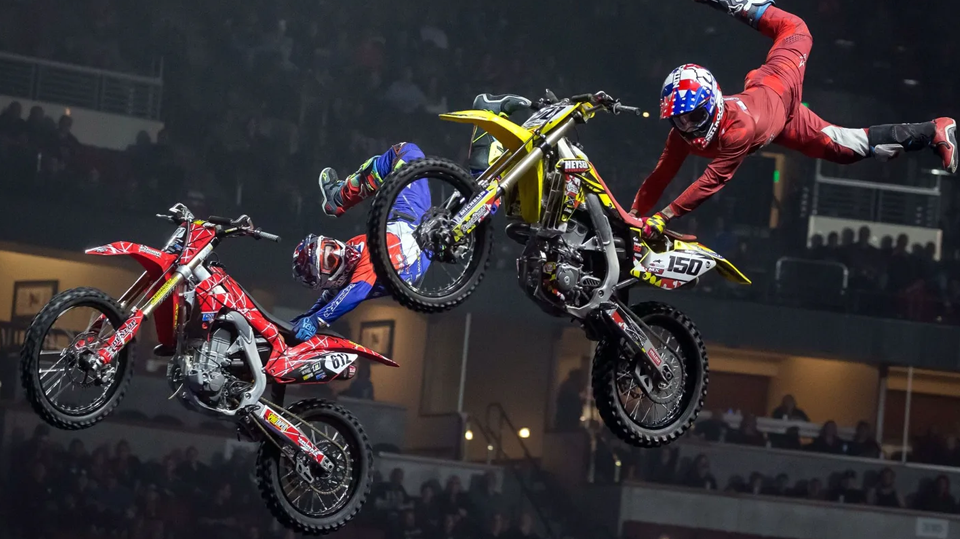 Andrew McKay
Post House Creative is a full-service video production and animation boutique. On a recent project for the Columbus Blue Jackets, Post House Creative had an opportunity to try something new. Instead of the usual style frames, storyboarding, and animatics, they went with a hybrid video game/app based on the Unreal Engine called Cine Tracer—a realistic cinematography simulator.
Andrew McKay
On The Brink is a wildlife documentary series with a mission to create awareness about the conservation crisis facing India's ecosystems and the species that inhabit them. The Gaia People, an award-winning husband and wife filmmaking team whose work has been featured on Animal Planet, BBC, Discovery, ITV, Nat Geo, NHK, and PBS, take viewers on an incredible journey across India.