EVO Shared Media Servers
Modern workflow solutions for remote, on-site, and in-studio video teams.
The EVO shared storage video editing server gives professional media teams incredible performance and supercharged efficiency. It offers a suite of features for on-site and remote users, including the powerful and easy-to-use ShareBrowser MAM, Nomad, and cloud-integrated Slingshot automation system.
All in One Box.
The EVO Suite—a standard for editors everywhere…
Organization
ShareBrowser
Organize projects, find and preview media with custom tags and metadata
Included with EVO
ShareBrowser is easy-to-use media asset management software, which can be used by your team to tag, organize, find, comment, and review video, image, and audio files.
AI auto-tagging also available.
Remote Workflow
Nomad
A practical solution for in-house, remote, and freelance video editing workflows
Included with EVO
Nomad is used to gather source or proxy media (automatically created by EVO's transcoder), which prepares editors to work virtually anywhere.
Remote Access
Cloud VPN
Secure, convenient, and fast—connect your entire team to EVO from anywhere
SNS VPN is an optional cloud-hosted private network service created just for EVO. It can be deployed in under an hour and gives your remote users a secure link directly and exclusively to EVO from any internet connection.
Automations
Slingshot
Automate file transfers, and sync to EVO Nearline or cloud services like S3 and Dropbox
Included with EVO
Slingshot is a robust automations engine and powerful API for EVO, enabling on-demand and scheduled file movements across multiple systems and geographical locations.
"Cloud Computing & Storage"

and

"Remote Production"

Product of the Year Winner
The EVO OS, systems, and all included software are designed by SNS, for professional media applications.
High performance scalable storage for medium to large workgroups
The 16 bay EVO accommodates up to 80 drives per managed system, and multiple 10GbE, 25GbE, or 50GbE ports.
Most popular system
High performance shared storage for small to medium workgroups
The 8 bay EVO accommodates up to 24 drives per managed system, and multiple 10GbE, 25GbE, or 50GbE ports.
Something big… figuratively speaking
EVO Prodigy Desktop is small, quiet, desktop storage for compressed workflows, mobile/field use, and studios without rack space.
All flash, high write-endurance SSD
The EVO DPX is built for intense throughput DPX/EXR finishing and color grading. Includes enterprise-class SSDs and built-in 25GbE.
Short-depth storage for DIT & mobile
An 18″ deep EVO designed for big needs in tight spaces — great for small server racks, flypacks, DIT, mobile, and other on-location workflows.
Compact workflow appliance
EVO Prodigy is ideal for studios with limited rack space, field use, and adding ShareBrowser features to existing storage systems.
NEARLINE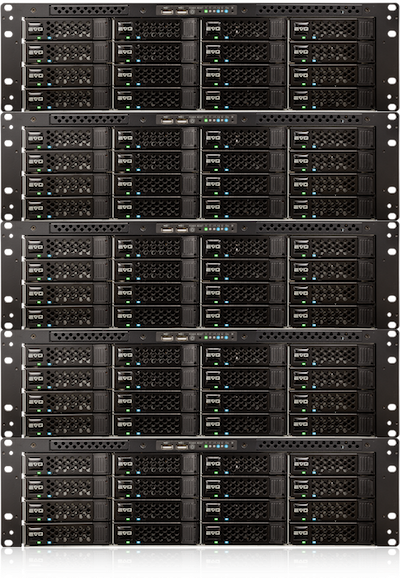 Not just for EVO users!
Cluster/scale-out to multiple petabytes
Affordable nearline/secondary tier for staging large reference libraries, completed projects, and related media before deep archive. Cluster-capable for scalability to multiple petabytes in a single namespace.
High density nearline
60 Bay, 4U, high density nearline storage for large reference libraries, offline material, and completed projects before deep archival. Includes EVO Prodigy 1U server for an intelligent media asset management layer.