DaVinci Resolve shared storage
EVO is a shared storage system and DaVinci Resolve project server all-in-one.
Network storage for Blackmagic DaVinci Resolve Studio
Choosing the best shared storage for DaVinci Resolve or Resolve Studio requires careful consideration about how your team wants to get organized and collaborate.
This is especially true if you're using DaVinci Resolve for color grading and finishing, because working with DPX/EXR sequences can mean throughput of 2GB/s (yes, that's two gigabytes!) or more per second to just one computer.
Using popular image sequence formats like DPX, TIFF, and OpenEXR can put tremendous demands on storage arrays, and this is particularly true for shared/networked storage arrays that have to balance the needs of multiple users.
For example, 4K DCI (4096×2160) 16-bit uncompressed DPX can require as much as 1.8GB per second, which easily exceeds the bandwidth of a 10GbE connection. On top of that, just one hour of this sequence can take up as much as 6TB of storage!
Until recently, color grading in a shared environment meant huge investments in complex storage deployments and expensive clustered Fibre Channel network infrastructures.
EVO makes it simple
EVO shared storage systems offer Resolve colorists a high-performance, cost-effective shared storage solution that bridges the gap between editorial and finishing.
It's now easier than ever to incorporate color grading into a shared environment, along with motion graphics, and online/offline edit suites running Premiere Pro, Avid, or FCP.
Resolve has collaboration features built-in, but if your shared storage can't support your team's high throughput workflow you're not getting collaboration the way Blackmagic intended! With EVO, you get the throughput required for even the most demanding tasks, such as working with 2K, UHD, 4K, and 6K image sequences.
It's amazing what happens when everyone is working in harmony.
For the whole team
EVO makes all of your camera files, offline proxies, master files, projects, and DPX sequences available in real-time for all Resolve users connected to the network. And, whether you have an artist working in After Effects, an editor working in Premiere, and a colorist working in Resolve, everyone can access the same storage system and work with shared assets.
What sets EVO apart?
Purpose built storage
EVO is a purpose-built networked storage server for professional media teams. Unlike generic SAN or NAS systems, EVO is designed exclusively for high throughput, low latency media creation requirements.
EVO increases efficiency in your workflow by storing and serving all media and project files from a centrally accessible system.
Focus on productivity
By enabling real-time editing directly over the storage network, EVO eliminates the need for standalone RAIDs or individual drives for multiple workstations. This, in turn, eliminates the need to endlessly shuffle huge files.
Editors, colorists, and other artists spend less time waiting and more time getting things done.
Netflix deliverables? No problem.
The EVO DPX system handles real-time playback of uncompressed 4K media and finishing in 16-bit EXR/DPX from a single shared storage system.
Windows, Linux, and Mac workstations can achieve 1GBytes/s and higher—without using Fibre Channel.
Windows, Linux, Mac
Resolve supports multiple operating systems, and you can use any or all of these platforms with EVO. Each OS has its own nuances that can affect Resolve's performance with shared storage, so advanced situations—especially very high throughput and/or using multiple OSes—may require additional configuration.
Contact us to discuss your workflow requirements.
Take full advantage of game-changing collaboration features by hosting your team's DaVinci Resolve database right inside EVO.
Get organized with ShareBrowser
Every EVO includes ShareBrowser, an editor-friendly asset management application built to complement EVO and make it easier for multiple users to work together as a production team within the shared storage environment.
With ShareBrowser, users can view proxies, verify data transfers, tag files, comment on, and search for assets across all EVO storage as well as local, offline, cloud-based, and other network disks.
Export to Resolve Studio
ShareBrowser also helps your team get the most out of the file management and organizational tools inside Resolve. Editors, assistants, and other collaborators can log clips using custom tags and comments in the ShareBrowser client or web app, then quickly export media and metadata directly into a project.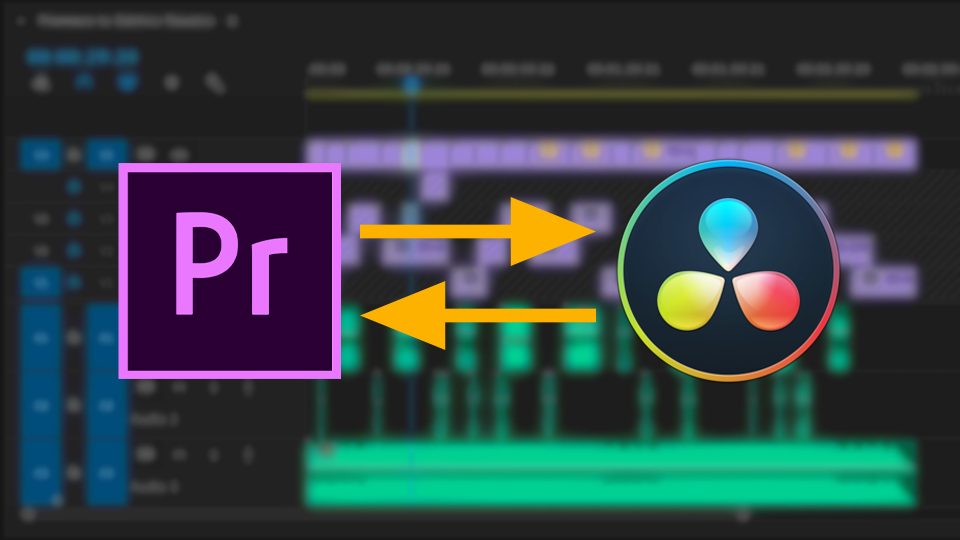 EDL, XML, and AAF: The 3 Methods for Premiere Pro to Resolve Roundtrip Workflows
Premiere Pro and Blackmagic Resolve both offer incredibly powerful standalone features. Even though Adobe and Blackmagic are actively battling it out in a war for our timelines, using the two applications together opens up an entirely new world of possibility.
EVO is used all over the world, with professional NLE applications like DaVinci Resolve, Adobe Premiere Pro, FCP, and Avid Media Composer.
What people are saying
We grew the number of episodes during production and the staff kept growing. We had a show runner, nine producers, two executive producers, seven editors, and four assistant editors—20+ users reviewing and editing footage on EVO at any given time.
All of our raw footage, Premiere projects, graphics, and finished shows are safe and available from any machine. We're sometimes delivering over 100 videos a week, so having EVO has been absolutely essential to our workflow.
We were using a 64TB direct-attached RAID, and it got to a point where we knew we just couldn't get anything done without a centralized server that we could rely on to handle our workflow without hiccups.
We have better processes in place because of EVO. It's allowed us to sleep… without it, it would always be crunch time.
EVO network storage for your DaVinci Resolve workgroup
EVO DPX
High performance, scalable storage—perfect for editing, finishing, color grading, 3D, VFX, and Netflix original content creation
Qualified up to 16-bit 4K (4096×2160) DPX/EXR @ 30fps for most workstations—custom configurations available for higher throughput/advanced requirements.
Supports up to 24 x SSD (6Gb/s SATA or 12Gb/s SAS)
12Gb/s SAS Architecture
10/25/50/100GbE
EVO Nearline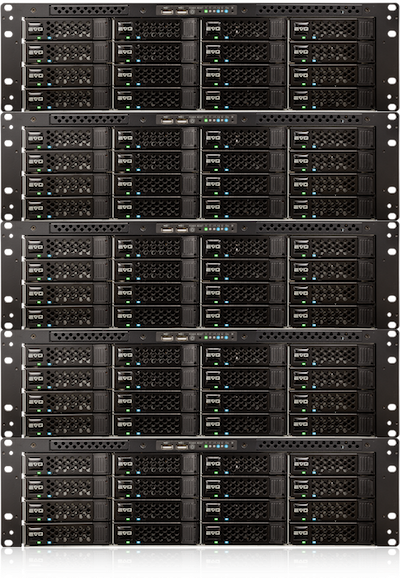 Never too much of a good thing
Affordable nearline server for teams that need a secondary networked-storage tier for staging large reference libraries, completed projects, and related media before deep archive
Shared media
The greatest increase in workflow efficiency comes from enabling everyone to access the same media files at the same time. EVO is designed to handle cutting edge workflows with HD, 4K, 6K, and even 8K video formats, all while allowing editors to access their projects and media concurrently.
Enhanced data protection
Centralized RAID protection, UPS monitoring, and custom network notifications protect your data from things like disk failure and file overwrites, and a unique shared Recycle Bin even protects against accidental file and folder deletion! Editors can rest assured that all of their critical media is safe and readily accessible.
The EVO OS, systems, and all included software are designed by SNS for professional media applications. Learn more about EVO
Need more information? Want a demo?
Contact us about your Resolve workflow requirements—we'd love to hear from you.