Nitro Circus is a global sports entertainment company that produces a wide array of live events, docuseries, television programming, and digital content. Founded by action sports icon Travis Pastrana, Nitro Circus began as an excuse to travel the world riding dirt bikes, BASE jumping, and performing crazy stunts. The brand quickly took on a life of its own, spinning into live-action sports competitions complete with screaming fans and multi-camera broadcasts to a massive worldwide audience. Today, Nitro Circus is a bonafide media company with shows airing on multiple networks, while also turning countless hours of digital content for their audience of 25 million fans worldwide.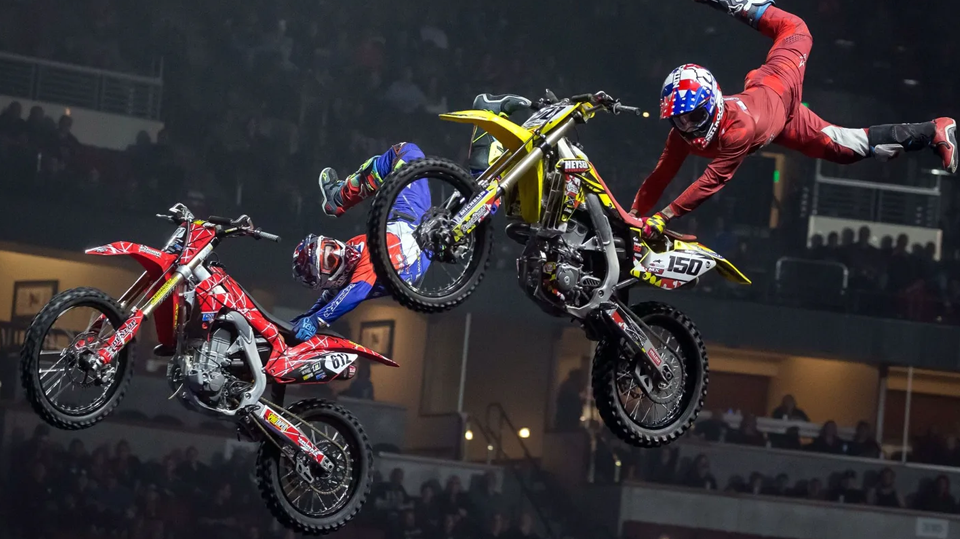 The Nitro Circus production team is built to turn on a dime, creating and publishing content rapidly for a large variety of platforms and audiences. We sat down with Nitro Circus Post Production Supervisor, Sean Osborne to get a behind the scenes look at their production team and video infrastructure where they handle the editing, graphics, and color for Nitro Circus' thrilling action sports content.
High Octane Live Productions
Massive live events like the Nitro World Games, a high octane tour-de-force featuring over 100 of the top action sports stars competing across five different events over two days, serve as the backbone for a lot of the content their team is creating. The core live production team—around 20 employees—plan out the equipment, staff, location logistics, and program necessary for streaming and recording each experience.
Capturing all the action requires a staggering range of cameras "Every show is a little different," Sean said. "Our production team sometimes uses large 4K production, robo cams, drones, 360, and onboard cameras. Most of our events are captured on RED or Sony to give it a higher-end cinematic feel, but every show is completely different, and we're constantly trying to find new ways to take it to the next level."
Most of Nitro Circus events are live-streamed and promoted on YouTube, Facebook, Instagram, and Snapchat. A typical live stream can 12+ hours of multi-cam content, which gives the post-production team a lot of content to use in future advertisements, episodic, and television content.
Fueling Post Production for Digital Content and TV
With 20 date annual tours across the globe, there's never a shortage of footage. The minute an event ends, the post-production team gets started immediately. A typical event produces around 20TBs of footage; once it's ingested, a group of Assistant Editors (AEs) immediately starts tagging and organizing clips using ShareBrowser, then assembling media assets for post-production. The team cuts together 80-100 recap clips following an event, usually within just one month of an event. "Since I joined the team three years ago, we've done about 20 hours of Television for NBC, and 4 hours of live TV for HISTORY. And that doesn't include the countless amount of web series content," Sean explained.
The Nitro Circus Post Production team consists of 12 full-time editors, ready to expand up or down with freelancers based on a project need. The entire team is using a mix of iMac workstations with Adobe Premiere, After Effects, Photoshop, and the rest of the Adobe Creative Cloud, with every user connected to over 500TB of EVO shared storage for collaborative video editing, storage, and media management. For finishing, the Nitro Circus team has a DaVinci Resolve suite, and for backup, Sean and his team are using a StorageDNA DNA Evolution LTO7 Archive.
"While Adobe has powerful creative tools, we find that Resolve allows for more control and a higher quality visual," Sean said. "We're able to host both the Resolve and Premiere project files, and all of our media on the EVO, which makes it easy for us to roundtrip between Premiere and Resolve."
What's Next for Nitro Circus
With an upcoming several-month tour across North America and Australia, and a 2020 Nitro World Game in Wales that promises to be the biggest action sports event to ever come to the UK, it's safe to say that dirt bikes and skateboards won't be the only thing ramping up.
"If we pick up another TV show, we're going to need to tweak our workflow. The television content is typically coming in at around 100TB of storage, versus the 20TB projects we're getting today. Thankfully, this won't be a problem because of how we planned our systems from the start."
Does your workflow need a nitro boost? Get an action-packed online demo of EVO and ShareBrowser, and learn how your team can start finishing projects faster.
About Key Code Media
Key Code Media supports production systems nationwide for broadcast, entertainment, government, education, reality television, pro audio, and a majority of the U.S. Fortune 100 corporations. Founded in 2001 by Mike Cavanagh, Key Code Media has expanded in Burbank, Irvine, San Francisco, Seattle, Chicago, Detroit, and New York, with revenues exceeding $35 million per year.
Key Code Media provided Nitro Circus with a complete Adobe and DaVinci Resolve network, backed by 500TB of SNS EVO Shared Storage with ShareBrowser media asset management. All 12 iMac and iMac Pro video editing workstations were benched, set up, and networked to the SNS EVO for editorial, and a StorageDNA DNA Evolution LTO7 system for archive.