Maday Productions is an Emmy-winning group of storytellers based in Chicago, IL. As a self-described "boutique" production studio, they take great pride in their ability to deliver gorgeous visuals and strong narratives for clients all over the world. Staying true to those values, Maday has produced incredible work for brands like ESPN, General Electric, Sony, IBM, Bank of America, and many more.
With a deep roster of high-profile clients and a full pipeline of projects to get to, Maday needed a new shared media storage solution to fuel their growth. "We were limited by our old shared storage," said Jeremy Garchow, Producer and Editor at Maday Productions. "It got to a point where our storage was holding us back and slowing us down. We needed a change."
Final Cut Pro X is Maday's NLE of choice, and much of their workflow resides in the macOS ecosystem. They were looking for a new shared storage solution that worked with Apple's newest applications and hardware, first and foremost. They also needed a storage system that thrived under the pressure of high-resolution footage and improved their media management experience.
In 2019, Maday Productions found what they were looking for in a 16 Bay EVO shared storage server. Upgrading to EVO has improved many aspects of their post-production workflow. From organization with the ShareBrowser media asset manager to remote editing with SNS Nomad and automated cloud storage capabilities—all of which are included with EVO—Maday's team has more tools than ever to create content for their audiences.
A Better Workflow with ShareBrowser MAM
"We use ShareBrowser every day to organize our media and collaborate on projects," said Garchow.
Using EVO's feature-rich ShareBrowser media asset management (MAM) software, Maday can store FCPX libraries on their EVO shared storage server. This allows them to see who is working on a FCPX library and prevent editors from accidentally overwriting projects.
"Our old media asset management system didn't allow Final Cut Pro libraries on the server," said Garchow. He then added that this EVO feature makes their workflow "a lot easier to manage."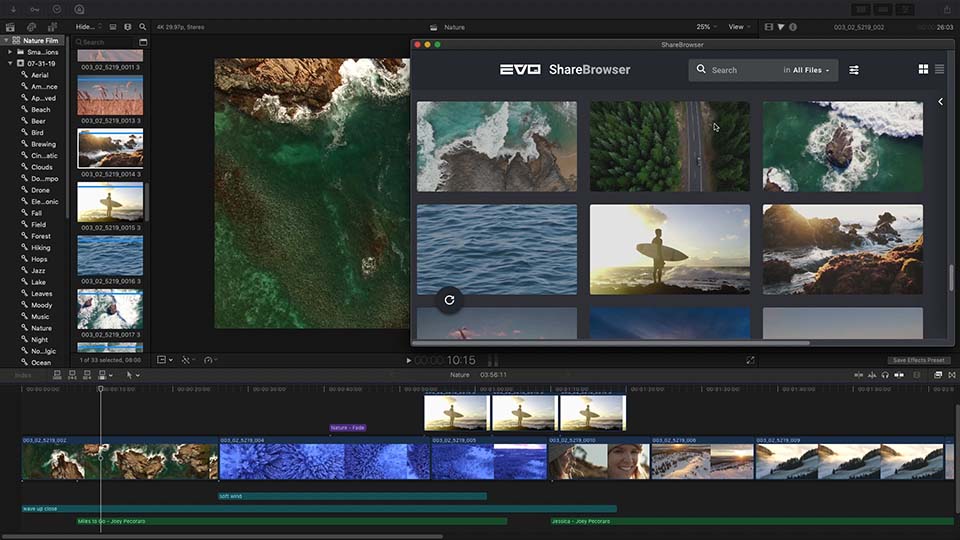 Garchow often accesses ShareBrowser through the included in-app extension for Final Cut Pro X. The ShareBrowser extension brings media and metadata into his timeline with perfectly synced keywords and notes. His directors, however, prefer the ultra-convenient ShareBrowser web application. "Without downloading any software or opening Final Cut at all, the director can use ShareBrowser's web app to see a bird's-eye view of what we shot on set," Garchow explained.
"Having multiple ways to access our footage in ShareBrowser really helps our workflow," added Garchow. ShareBrowser facilitates content management with enhanced search, tag, and comment functionality. Included with EVO, there are no per-seat license fees for the ShareBrowser MAM system.
Overcoming Obstacles with macOS Shared Storage
The 16" MacBook Pro hit the market about a month after macOS Catalina released. Excited for the new tech, Maday quickly supplied their editors with the new mobile workstations by Apple. "We bought 16-inch MacBook Pros when they first came out and equipped them with Thunderbolt 3 to 10GbE adapters in anticipation of the new SNS storage," said Garchow.
Ready to put their new MacBook Pros to work, Maday imported many terabytes of 8k footage from cinema cameras to their EVO shared storage server. They were slowed down by constant disconnections from the shared storage for no apparent reason, so Garchow reached out to the support team at Studio Network Solutions.
The SNS team went to work to uncover the source of the disconnections. In the SNS test lab, engineers replicated Maday's environment and created test patterns to simulate the kinds of workload Maday was generating. SNS engineers soon discovered a problem with macOS Catalina. Shortly thereafter, the internet was buzzing with reports of macOS Catalina failing with all kinds of network shares.
After identifying the root cause, SNS quickly developed, tested, and released a solution for professional video production teams on macOS Catalina, like Maday. "I really can't say enough about the support team," Garchow added. "They are great, always working hard, following up, and eager to help."
You can read a post-mortem on Maday's Catalina issue in our PSA for Video Editors: Using Catalina with Network Storage.
Working from Anywhere with SNS Nomad
Maday's classic Chicago studio is a home away from home for three editors and Garchow's four-legged assistant, Remington. In March 2020, the COVID-19 pandemic turned the Windy City's bumper-to-bumper traffic into eerily empty highways. To maintain compliance with stay-at-home orders, Garchow and his team started working from home.
Foreseeing a surge of remote working in post-production, SNS built and released Nomad, a remote editing utility for EVO at the onset of the pandemic. "The timing was perfect," Garchow said. He recalled that Nomad was available the very first week that his team began working remotely.
Maday was an early adopter of remote editing workflows with EVO+Nomad. Their team continued post-production on a feature-length documentary and completed several simultaneous projects all while working from home.
"Nomad opens new workflow opportunities for our team that would have never been possible before," said Garchow.
EVO automatically creates proxy files as you add media to the shared storage server. Prior to Nomad, these were used exclusively as ShareBrowser preview files. With Nomad, editors can now reuse these already-made, lightweight, low-res proxies, which can be copied to an individual workstation in a way that mirrors their original source path on the storage server. With this approach, EVO+Nomad enables a remote video editing workflow for post-production teams working from home, on set, in the studio, or anywhere.
Given the high-resolution footage they worked with, Nomad's use of lightweight proxy files was particularly helpful for Maday's offline editing workflow. "It would take hours to transcode all of our footage. EVO does it automatically, saving us tons of time and effort that can now be dedicated to more creative tasks," Garchow added.
Automatic Backups to Cloud Storage
The team at Maday Productions automatically runs daily cloud storage backups to Dropbox using Slingshot, EVO's automations engine. "90% of our freelance staff work on projects outside the office. We share files with them using Dropbox," said Garchow. "EVO ensures they have the most up-to-date media files without manual intervention."
EVO seamlessly integrates with cloud storage services like Dropbox, Amazon S3, and Microsoft Azure. This creates an adaptable storage environment for teams working with multiple projects for clients all over the world.
From FCPX workflows to new technology to remote editing, the EVO suite of shared storage hardware and software solutions helped Maday Productions overcome many obstacles. Now they spend less time worrying about their media storage and more time shooting and editing the high-quality productions they're known for.
To see how EVO can solve your media storage challenges, get a demo personalized to your workflow today.